Case Studies
Here you can read case studies on current Valley Invicta Academies Trust staff who trained to teach with us. Just click on the names below.
Chris Waters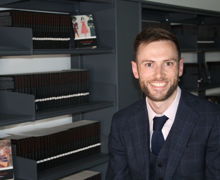 Name: Chris Waters
Training: QTS achieved in 2013 and finished NQT training in 2015
Current position held: Lead Teacher KS5 Physics
What were you doing prior to becoming a teacher? Cyber Security Consultancy
Why did you choose to train through VITSA? Having come to visit, the environment felt energetic and exciting, and the opportunity which was open to me to teach a subject I'm passionate about to students keen to learn resonated with what I felt I needed at the time. On interview I also got the impression of the school wanting me to work here, on other teaching interviews I did not get that impression but here the support and welcome was much more personable and engaging.
What motivated you to become a teacher I was working in a job that although sounded exciting, was not engaging me in the way which I felt like I needed. I felt like I was in a dead end and very mundane job, working at a computer all day. I have been coaching football since I was 19, so I knew that working with young people was something I looked forward to each week and was rewarding, so teaching was a natural blend of working with young people and my love for my subject.
Thinking back from your initial training to where you are now, what have been the highlights to your teaching career? I have been in teaching for nearly 10 years...my highlights of my teaching career so far have been;
Becoming lead teacher in my 4th year of teaching - having the autonomy to write my own scheme of work and implement this.
Leading CPD for other teachers - it is so rewarding to be able to facilitate the sharing of good practice.
Starting the Thinking Out Loud initiative and seeing this grow; students really engaging with the stories and passions which we as teachers have. Leading on to being invited to give a TED talk in London in 2020. Working in an environment where any idea is supported, and you are able to really make a mark.